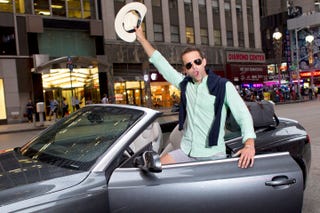 I had never even heard of Summer Fridays before I moved to NYC and I've actually worked for Gawker Media the majority of my time here — tradition dictates that we don't see the sun until it's setting on Fridays.
But I did work at Condé for a well-heeled stretch, where Summer Fridays weren't just a thing but a thing in which you'd breeze into the office wearing some summery shit from Intermix (that you couldn't afford), a perfect little outfit that would take you seamlessly from the office to the LIRR and beyond. You'd GTFO of 4 Times Square as soon as lunch hit. It was really nice, benefit-wise, but also very weird. I wasn't going to sit around the office while the rest of the company streamed out the doors, but something about it felt very uncomfortable, like everyone was taking professional luxuries a bit too far. I liked it but didn't like myself for liking it. And while I certainly wasn't snobbish about it — very few of my friends had Summer Fridays — the snobbery surrounding the ritual was palpable. We were lucky jerks.
Turns out that jerk thing wasn't just in my head. Previously unknown fashion publicist Matthew Owens — charmingly pictured above — talked to the Post about how much he loves Summer Fridays and, in particular, loves being a dickbag about the fact that his employer (EXPRESS, remember them?) allows this luxury.
"I remind [my friends without Summer Fridays] that I will be taking an early train out to the Hamptons," he says. "And I send them a later schedule to remind them they will be taking a late train out. And that they can find me at a restaurant out east, where I will be enjoying a glass of rosé," he adds with a sinister cackle.
"It's so much fun to mess with friends who don't have them. It has become a pastime," says Owens, who also posts poolside selfies on Instagram for the viewing pleasure of his desk-jockey pals.
Are you sure they're still your pals, Matthew?